Brooke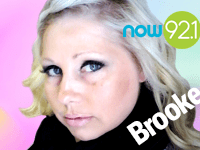 15 Random Things about Brooke
1. First job was at McDonalds, also managed American Eagle and worked in a bank before getting started in radio.
2. I have 2 cats!
3. I have no idea what my natural hair color is… And neither does my family!
4. LOVE coffee!
5. I wrote a children's book, never had it published.
6. I have a gamer tag and play Minecraft/Mineplex online.
7. I stink at technology.
8. I get tongue twisted when I get excited about something!
9. I paint wall murals. Favorite characters for kids bedrooms or football favorites in basements and garages.
10. I leave my tea bags in the sink.
11. I have a Flip Flop problem.
12. I won a Maxim contest in my single, before baby body days!
13. I wear a headband almost EVERY day!
14. Popcorn is my favorite food!
15. Did I say I LOVE COFFEE?